Currently viewing the tag: "Arduino"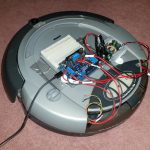 Bumblebee?
Bumblebee is my Roomba, so named as long ago he lost his voice.  About a year ago his logic board started playing up and though he was still able to clean, at the end of each cleaning cycle he wouldn't go into standby and his battery would drain in no time.  At that […]
Continue Reading

→
Work has been mental for a few months so despite doing odds and sods on Hugo and a buttload of work on our illegal fishing project at work (hopefully more on that soon) I've not posted anything in a while so thought I'd post about a clock I'm building for my Dad.
My dad's an […]
Continue Reading

→